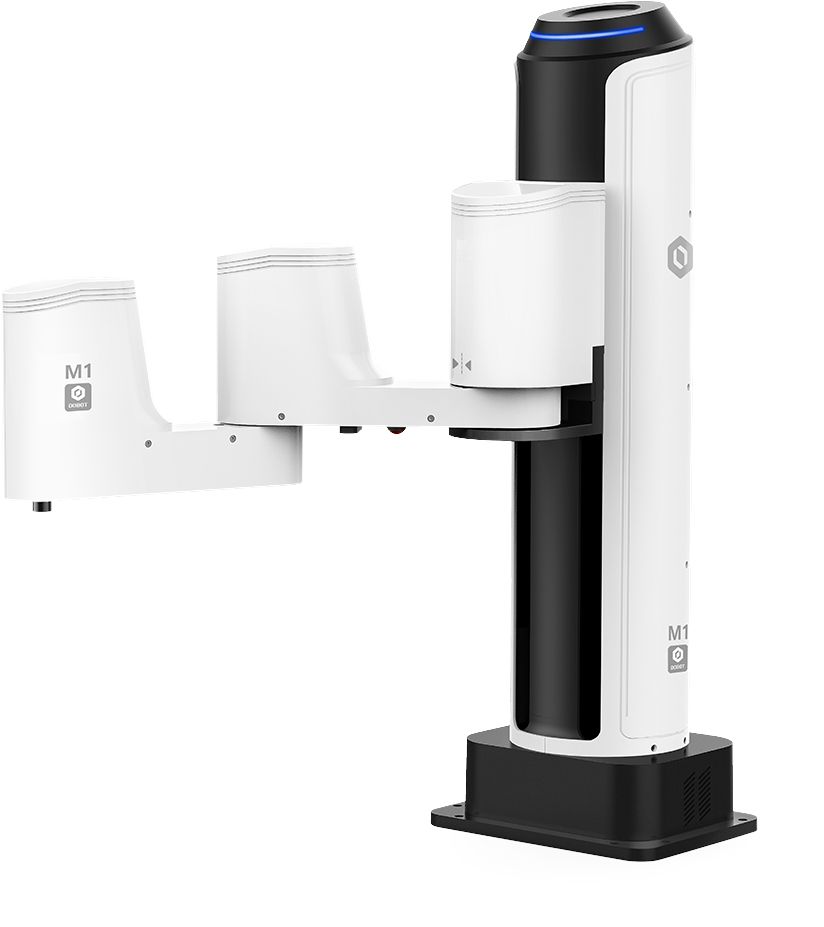 Kysy tarjousta tästä tuotteesta
robotline@insolution.fi
Collaborative SCARA Robot Arm
WHAT IS DOBOT M1?
DOBOT M1 is a cost-effective intelligent robotic arm for light industry. With high precision, wide working range, complete functions and secondary development, it provides users more ways to use. M1 can realize multiple functions of assembly line work such as soldering, visual recognition and PCB plug-in, helping to construct the intelligent industrial system.

PLUG AND PLAY , EASY TO MOVE
No complex installation is required, M1 can be connected just in one step. It's so light that a single person can move anytime anywhere.

INTEGRATED MACHINE DESIGN
The integrated machine design greatly improves the work efficiency between the servo drive and the control system.

HIGH PRECISION AND 1.5KG PAYLOAD
The repetitive positioning accuracy of M1 can reach 0.02mm with a maximum working range of 400mm and a rated payload of 1.5kg, so as to ensure the best performance of the lightweight industrial robotic arm.

INTELLIGENT INTERFACE, WIDE APPLICATION
Standardized intelligent interface and open programming language make M1 highly extensible. With different accessories, M1 can realize diverse functions.

SPECIFICATIONS
Reach
400 mm
Payload
1.5 kg
Maximum magnitude :
Type
Mechanical limitation
Software limitation
Rear arm
-90°- 90°
-85°- 85°
Forearm
-140°-140°
-135°- 135°
Z-axis screw
0mm- 250mm
10mm- 235mm
End-effector rotation
unlimited
-360°- 360°
Maximum speed :
Joint speed of Forearm and Rear Arm
180°/s
Resultant speed of the Forearm and Rear Arm
2000 mm/s
Speed of Zaxis
1000 mm/s
Repeatability :
0.02 mm
Collaborative function :
support sensor-free collision detection and teaching and playback
Input Requirements of Power Adapter :
100 -240 V, 50/60 Hz
Communication interface :
Ethernet, RS-232C
I/O :
22 digital outputs, 24 digital inputs, 6 ADC inputs
Software :
M1 Studio
System :
Linux